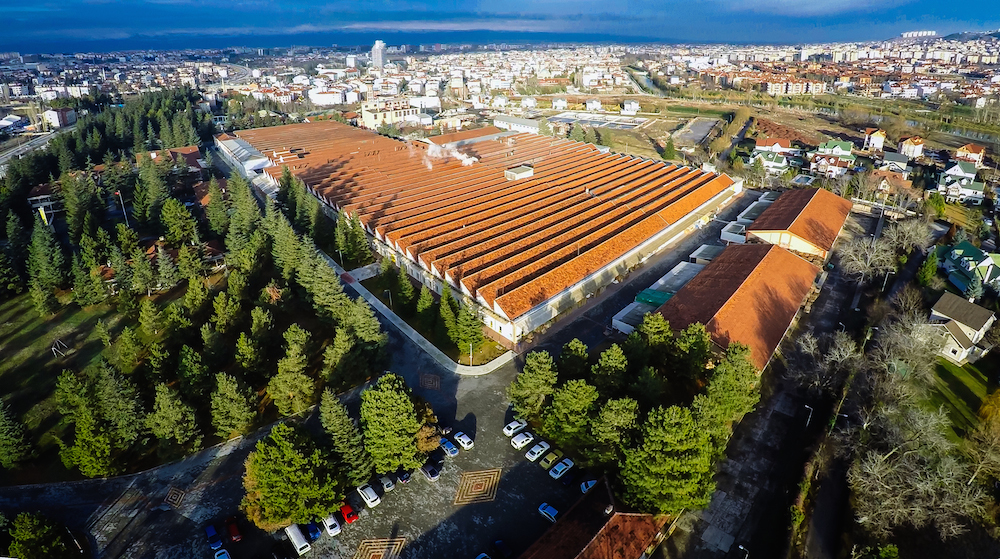 The founder Abdurrahman SARAR's dream which he set up in a tailor's shop in 1944, becomes a reality in five factories today and opens up to the world.
Sarar continues its production with 3 main production factories in Eskişehir Organized Industrial Zone, Sarev Home Textile and Shirt Factory on Eskişehir-Kütahya road, and Sarar Women's Ready-to-Wear Clothing and Production Unit in Istanbul Kağıthane. In these facilities, besides Sarar branded products, it carries out contract manufacturing of world-famous textile and clothing brands.
As a company operating in many sectors in many parts of the world and Turkey, Sarar believes that winning the present means winning the future. In this direction, Sarar leads its sector with %75 female employment.
Sarar operates in 149 stores across the country as S'STORE, SARAR, CCS, INTERVIEW, SARAR WOMAN, OUTLET and SAREV. https://group.sarar.com/magazalar/  At the same time, Sarar carries its elegance to many parts of the world with its 36 stores in Europe, Asia and Africa.
With its home textile brand Sarev, since 2005, Sarar has carried its elegance to the home textile field. Sarev, one of the world's leading brands in home textiles, continues to bring together both modern and natural lines in elegance with its high quality production approach.
As in many parts of Turkey and the world, Sarar Group companies also operate in many sectors and make a difference. Sarar continues to serve in the automotive sector, which it entered in 1997 with Toyota authorized service and spare parts stations, since 2016 with Renault and Dacia authorized services and spare parts stations.
Sarar cooperates with many brands in the operation of fuel stations in different locations.
Established in 1995, Sarar Insurance is the agency of the leading insurance companies in the sector.
In the IT sector, Sarar continues its activities as the sales and technical service of computer hardware, telephone and switchboard devices.
Sarar Bozüyük Outlet, which is among the projects that have been realized, has the features of a resting facility on the highway and a shopping mall with its 91 stores. It serves as the largest outlet center with its location at the intersection of Bilecik, Eskişehir, Kütahya and Bursa highways.
Solar Energy Systems which was implemented within the scope of the Green Energy Project initiated by Sarar for a healthy future, has been operating for exactly 4 years.
With all its sustainable projects, Sarar continues to make dreams come true, to provide a healthy future, and to share all its services with the world by prioritizing Sarar quality and elegance.
In the field of sports, Sarar Sports Club has operated in 7 different branches since its establishment in 1994, and today it is still active in 3 different categories; it continues to work in taekwondo swimming and kick boxing branches.
Sarar Sports Club, which has achieved great success in all 3 branches, has won the Turkish, Balkan, European and world championships in taekwondo. Also it earned degrees in swimming branch, especially in masters, with its provincial, regional, Turkish and international successes. It won various provincial and Turkish championships in kick boxing. With an average of 200 licensed athletes and 10 trainers, Sarar Sports Club has been continuing its successful activities for 28 years without slowing down.
Since the day it was founded, Sarar Group has been providing support in the fields of education, sports, culture and art to increase the quality of social life with a sense of social responsibility. Being aware of the importance of basic education first in raising a child and then in shaping a generation, Sarar contributes to education with 4 different schools it has established. Fadime Sarar and Abdurrahman Sarar high schools, which were established in 1997 and 1998 in Eskişehir, continue to serve with the Primary School and Kindergarten named after Cemalettin Sarar and Zehra Sarar.
As of 2019, Sarar Group and home textile brand Sarev support the Sosyal Ben Foundation, which was established to discover and develop the talents of our children living in disadvantaged areas. Within the scope of this joint project; Sosyal Ben products are offered for sale in 16 stores of Sarar and Sarev across Turkey. All proceeds from these sales are donated to the Foundation.