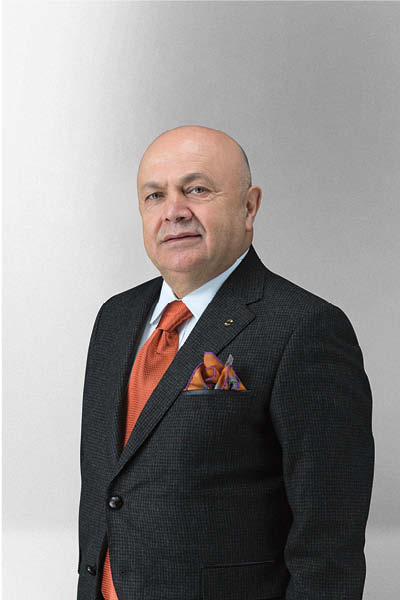 Message from the Chairman
Our valued father, Mr. Abdurrahman Sarar, took the road alone in a 12 m2 shop 75 years ago with the dream of creating a long-termed brand. The biggest dream of us as the second generation and our children as the third generation is to position Sarar in the world area as a brand which is well-known and preferred by all world with its different fashion understanding, unique style, fitting which combines the quality with aesthetic and young and dynamic interpretation. And today, we take the pride in fulfilling a big part of this dream when we look back to what we have done and we proceed on our way and continue to work without stopping in the belief of that tomorrow, we will take bigger steps.
In addition to our works in the field of manufacturing relentlessly, there have been various art, sportive, cultural and social responsibility projects that we have supported within the years. As Sarar which knows how the social responsibility projects are significant and distinctive before the society and makes these projects a part of corporate culture, we have opened Abdurrahman Sarar Anatolian Religious High School, Fadime Sarar Anatolian Religious High School, Cemalettin Sarar Primary School and Zehra Sarar Nursery School and put them into the service of our society up to today. In the social field, especially our sportive sponsorship services have extensionally continued for long years. We believe from the heart that our efforts will continue with same sedulity and entrepreneurship in the following years.
Sarar which has 5 big manufacturing factories and more than 3.000 employees in Turkey has achieved to attract the attention in the sectors with the positive discrimination that it has applied to the women employees in its factories. We created 80% of our factory staff from women because we believe from the heart in the insight and power of women in the ''Manufacture of Beauty''. In this regard, we thank to all our women employees and as well all our employees who have contributed their efforts in our success and I want to say them that we wish to work with them for longer years.
There are 160 retail stores and more than 800 salespoints at home with the brands of Sarar Women, Interview Sarar, Sarar Scarf, CCS, Sartoria Sarar and Sarev brands; and total 58 concept stores abroad as in Europe and USA with 55 in other countries. With its turnover amounting to total 300 million Dollars annually and export turnover amounting 30 million Euro, Sarar is among the leader garment brands of Turkey.
Our future object is to continue this expansion by more acceleration and to make Sarar a company which is well-known in the worldwide. Within this scope, as Sarar, we believe that we have completed our retailing growth in the national market and we adopt our main target as the growth and expansion by creating new cooperations through the license contracts both at home and abroad.
Cemalettin Sarar
Chairman of Executive Board SARAR